Logistics and Facilitation team
ALTHEA ADONIS – Health Justice Initiative: Project Administrator
Althea has over 15 years' experience in the field and a Business Administration degree. She is passionate about health justice, and the rights of differently abled persons .She leads the HJI's administrative and finance support functions. 
VITÓRIA DE PAULA RAMOS – Meeting Facilitator
Vitoria is an Advocacy Specialist having worked for over ten years with advocacy and policy in international non-governmental organizations. She is currently a PhD student at the Global Health and Sustainability Program at the School of Public Health of the University of Sao Paulo. For six years she worked at Médecins Sans Frontières/Doctors Without Borders, including as Head of the Advocacy, Institutional Relations and Humanitarian Affairs Unit of MSF Brazil. 
MOLLY SLINGSBY SMIT – Meeting Coordinator
Molly has over 20 years' experience with general event planning and provides logistical assistance to the civil society sector. She coordinates meetings, launches, conferences, fundraisers and more. She is based in South Africa. 
VOLUNTEER RAPPORTEURING TEAM
Barbara Carvalho Lacerda de Almeida is a pharmacist, specializing in hospital pharmacy. She is currently working with Doctors without Borders (MSF) and also volunteering at Universities Allied for Essential Medicines (UAEM).
Marina Certo is a volunteer with  UAEM Brasil (Universities Allied for Essential Medicines) – since 2017. She has a Master's degree in Human Rights Public Policies from the Federal University of Rio de Janeiro and a Bachelor's degree in International Relations. Since 2015, she has been working at DNDi to address neglected and tropical diseases, dealing with public health issues of vulnerable populations, and supporting medical research in Latin America.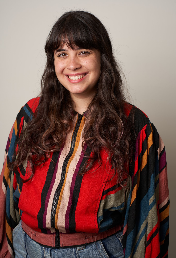 Bianca Carvalho is currently in the final semester of her Bachelor's degree in International Relations. Since 2020, she has been conducting research on access to medicines, intellectual property, neglected diseases, and public health.